Canada is not known for great weather but we love BBQ just the same.  So come wind, rain, snow, ice, and whatever else Mother Nature wants to throw at us, we still light up the grill and enjoy some great Canadian BBQ.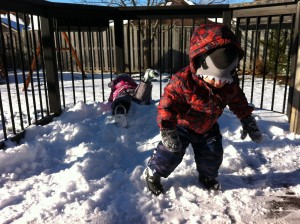 Today marked the first real snowfall in Waterloo, ON.  Despite the cold temperatures and howling wind I will still be firing up my Big Green Egg and grilling some steaks.  For the best way to grill a steak see Last Nights Perfect Steaks.
So here's to the hardy, die-hard Canadian Grillers out there.  May your grill heat your food, your hands, and your taste buds!