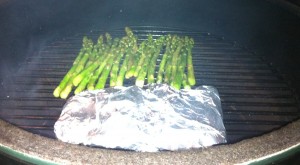 Two factors that keep me firmly rooted in amateur grilling and prevent me from diving into the professional realm are the fact that I don't have professional caliber grill skill and I don't have a lot of time (a side effect of having a couple wonderful children).  Because of this I'm a firm believer in quick and easy recipes.  One of our all-time fav side dishes is grilled asparagus.
Here's what you'll need:
Asparagus
Balsamic Salad Dressing (we prefer Kraft but I'm sure they're all the same)
Keeping with the 'simple' trend, here are the steps to get these puppies on your plate:
Wash the asparagus and cut the bottom ends off.
Put them in a dish and drizzle ¼ to ½ a cup of balsamic dressing on them.  Toss to ensure they are somewhat covered and let them sit while you setup your grill.
Setup your grill for 250-300 degree direct heat.  If you're using wood chips to smoke your meat later be sure NOT to add it for the asparagus.  Charcoal will give it enough smoke flavor.  Note that these instructions are for a Big Green Egg – other grills may vary.
Toss the asparagus on the grill for 5-10 minutes a side.  You want to see a little black on all sides but don't burn them or they'll turn into hollow asparagus fries.
Take them off the grill and cook your meat.
Despite the taste you won't believe the flavor these little guys pack.  Happy grilling!
Update – May 26, 2013
I recommend grilling your asparagus after your meat while the meat rests. If you're grilling steak and want to avoid smoking the asparagus you can grill it during the rest period before you smoke the steaks.
I've also been cooking it at a little higher heat (350-400 degrees) on my Big Green Egg for 3 minutes a side.  This seems to turn out perfect.